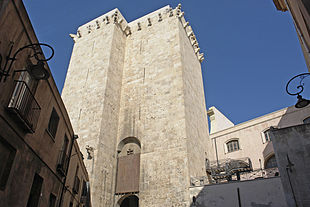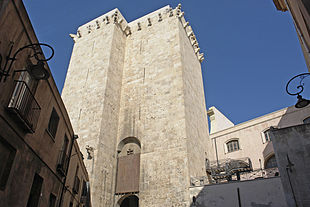 The "Torre dell'elefante"  is the second highest medieval tower of Cagliari, after the San Pancrazio Tower.
The building, one of the most important monuments of the city, is located in the Castle district opposite the church of St. Joseph and is accessible from the Via Santa Croce, from the University Street and the New Way. The visit to the monument you can admire vast panoramas of the city and the district.
The tower was built in 1307, on the orders of the consuls of Pisa Giovanni De Vecchi and Giovanni Cinquini, Sardinian architect Giovanni Capula, who two years earlier had built the twin tower of San Pancrazio. also designed a third tower, the Lion Tower, recently renamed the Eagle Tower, and incorporated into the Boyl Palace since it was badly damaged in 1708 by British bombing in 1717 by the Spanish cannons and finally in 1793 from the attack by the French during which lost its top.
In 1328 it was closed on the north side of the tower to create housing for officials and warehouses. In the Spanish era, the building was also used as a prison and its ports the severed heads of prisoners sentenced to death and beheaded in nearby plazuela (now Piazza Carlo Alberto) were hung as a warning. In this regard it is recalled that in the second half of the seventeenth century, the head of the Marquess of Cea, implicated in the murder of Camarassa viceroy, he remained hanging for several years.
In 1906, the engineer Dionigi Scano, there was a restoration helped restore the tower to its original, mainly through the release of the walled side in the Aragonese period.
The tower served as a defensive stronghold for the many Genoese attacks and Moorish. In addition to serving as a defense it was and is still, along with the San Pancrazio tower, the main door to get in Castello.