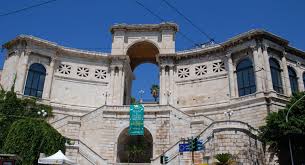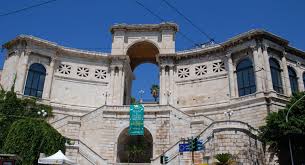 The Saint Remy bastion is one of the most important fortifications of Cagliari, located in the Castle district. The name comes from the first viceroy, Philip-William Pallavicini, Baron of Saint Remy. At the end of the nineteenth century it was monumentally transformed into a staircase, surmounted by the arc de Triomphe, which gives access to a covered walk and a large panoramic terrace.
It was built in the late nineteenth century on the ancient city walls, dating back to the early fourteenth century, linking the three southern ramparts of Zecca, Santa Caterina and Sperone, to join the Castle district with those underlying the Villanova and Marina.
The covered walkway and terrace Umberto I, the latter built on the old ramparts of the Spur, were designed in 1896 by engineer Giuseppe Costa and Fulgenzio Setti. The entire building is made in classical style, with Corinthian columns, and was built in Pietra Forte, a white limestone and yellow. It was inaugurated in 1901. The double staircase, with which you enter from Constitution Square, stops in the covered walk, and ends beneath the Arc de Triomphe, in the terrace Umberto I. In 1943, the staircase and the Arch of triumph it was badly damaged by bombs in the Second World war, but the war ended were faithfully reconstructed.
The Umberto I terrace is accessed via a short flight of steps, the bastion of St. Catherine, on the site of an old Dominican convent, destroyed by fire in 1800. It is said that in the environments austere convent prepared the conspiracy to kill the viceroy Camarassa in 1668, the most dramatic episode of blood in the history of the city during the Spanish government.
The covered walk since it was inaugurated in 1902, has been variously used. At first it was used as a banquet hall, then during World War II used as infirmary. In the thirties, during the period of sanctions, it was an exhibition of autarchy. During World War II it was used as a shelter for displaced persons whose homes were destroyed by bombs. In 1948 he housed the first Tradeshow of Sardinia. After many years of neglect, the walk was restored and re-evaluated as a cultural space reserved in particular to art exhibitions.