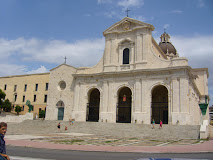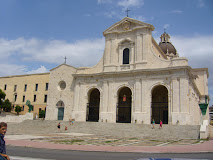 The construction of the Sanctuary dates back to when the King of Aragon conquered Sardinia driving away the hated Pisa. Alfonso IV, by order of King James, camped at the foot of the Bonaria hill, from where it began the siege.
The conquest of Sardinia proved to Alfonso more difficult than expected, and had to face the enemy in harsh battles. After signing the peace, he continued to strengthen the defenses already set on the hill of Bonaria, until he had built a fortified citadel that the Prince wished to endow a church, erected in thanksgiving to the SS. Trinity and the Virgin, which was initially entrusted to a priest, and later on October 17, 1335 to the Religious Mercedari, entitling it to Our Lady of Mercy.
the wide staircase climb, you find yourself on the big square costrui¬re made by the City of Cagliari, before the facade of the Sanctuary and the Basilica. Piaz¬zale a very nice, built with stones typical of so many streets and squares of Sardinia, divided into panels by long bands of stone slabs and in the center a large coat of arms of the Order of Mercy.
On the sides of the square, there are two bronze monuments, works of scul¬tore Franco D'Aspro, erected on the occasion of the coming of Paul VI, rappresen¬tanti a ship at the mercy of the winds, with the emblem of Mercy, and the Virgin Bonaria who with her presence reassures the hearts of his devotees. Looking towards the monumental complex of Bonaria, we see, on the left the facade of the convent of the Religious Mercedari, leaning against the shrine, which in turn is contiguous to the Basilica.
The facade of the convent is quite simple but impressive. "The facade (the Sanctuary) is projecting a curve, and the vestibule is sor¬montato by a cover which is back to the Church. Above the front door there is a lunette in which is represented the Virgin of Bonaria with a boat in hand. Conforms to the simulacrum that is venerated a main altar, and the sides of the Aragon arms ".
This old facade of the Sanctuary, mentioned in the Canon Spano, has been completely restored, during the work of 1958 and is the work of architect. Gina Baldracchini of Perugia. It was made of limestone, embossed, is very simple bill, with a large rose window at the center from which penetrates into the interior a soft light and relaxing. The portal, pre-existing, very nice, comes from the old church of San Francesco in Stampace. On the bezel it was placed a small bronze statue of Our Lady of Bonaria, the work of the Roman sculptor Arnolfo Bellini
.